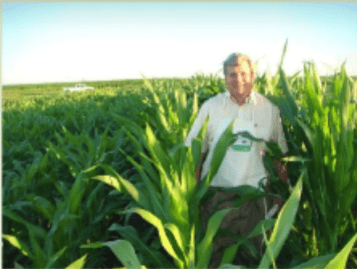 Corn in poor soil on left
Biochar amended soil on right
Benefits include improved soil structure, terroir and plant health
Biochar also enhances root growth — you can SEE and TASTE the difference
Early versions of these products are available. We are seeking partners to test biologically active products designed for the saltier and more alkaline non-potable water, and the harsher environmental conditions associated with parking lots and asphalt heat deserts.
SymSoil
, as a company, focuses on microbial diversity for soil health, and recolonizing native soil biomes and using biology to improve drought tolerance through soil porosity and water retention.
Join Your Local Carbon Network
Research by David Johnson suggests the number might be higher.
Research by Rodale Institute
Fungi in healthy, living soil can pull 4 to 9 tons of carbon dioxide out of the air, per acre, per year.
Sign Up to Learn About Upcoming Events
One-Day Biochar and Biology Seminar in Visalia, April 20, 2020. 
Biochar & Biology Hands-On Learning in Healdsburg, Sonoma County, December 10-11, 2018. 
Biochar is a solid material obtained from the carbonization of biomass.It is a fine-grained, highly porous charcoal that enhances soil by retaining nutrients and water.
Customers use SymSoil as a biochar activator
 to enhance terrior. 
This is achieved through reduced compaction, improved porosity, cation exchange, increased pH, retained water, improved hydaulic conductivity, promoted growth of microorganisms and
sequestered CO2. 
Biochar Improves the Environment by:
Reducing nitrous oxide emissions 50-80%

Reducing phosphorous and nitrogen in groundwater

Increasing soil carbon and reducing atmospheric CO2

Reducing forest fuel load

Sequestering carbon
SymSoil Biochar Classes in Northern California
Join us in a class for your co-op or community about how to create biochar with a farm's agricultural waste. SymSoil's team can come to your farm to do a burn or create compost.
We can create a sustainable process that works in your farm for future seasons.
To learn more about currently booked Biochar Burn Classes at other locations, or to book a burn at your location, contact
info@symsoil.com
.
Check Out The Articles Below
Learn the basics about Biochar.
Biochar. plus soil microbes, creates a catch and release mechanism for plant nutrient cycling and water molecules.
Read More
Biochar in Viticulture New Results
by Hans-Peter Schmidt and Claudio Niggli
Plant growth improvement mediated by nitrate capture in co-composted biochar
by Claudia I. Kammann, Hans-Peter Schmidt, Nicole Messerschmidt, Sebastian Linsel, Diedrich Steffens, Christoph Müller, Hans-Werner Koyro, Pellegrino Conte, Stephen Josep