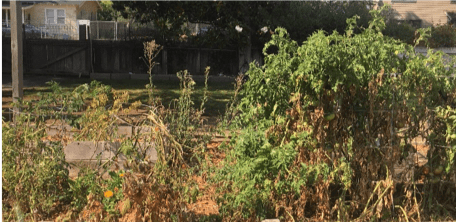 When the gardener went on holiday, these two groups of tomato plants were forgotten and received no water for a month. 
It was hotter than usual that August (in 2018) in Palo Alto, but the plants in SymSoil® RC, on the right,   survived better than those without.
The plant on the right in this picture was planted with a combination of RC and FIB.  The hydrophilic nature of the biochar, helped the plants on the right survive the heat and drought conditions even better than the other plants. 
On the other hand, if take care of your tomatoes planted with SymSoil® RC, you will be rewarded with great flavors!  Kevin McLosky used SymSoil® RC on his tomato plants and won first place with his crop at the Santa Cruz County Fair.