Grasses Treated With Compost Tea
The effect of restoring soil biology on gasses have been extremely well documented.  This picture is one of the famous examples the increase in root growth from restoring soil health.
SymSoil's first customer was the Irvine Company, which used a combination of SymSoil's Robust Compost and Fungal Infused Biochar, a product now called SymSoil® V50 to reduce the stress on Oak trees planted in a parking lot in Orange County,  California. 
This product is hydrophilic and can hold 49 gallons of water per cubic yard and, literally, pull water from the humidity in the air. Based on the success of that project, SymSoil has had several additional  projects with the Retail Division of the Irvine Company.  The second project was to restore vitality to a grassy area which had been challenged by the heat and customer foot traffic.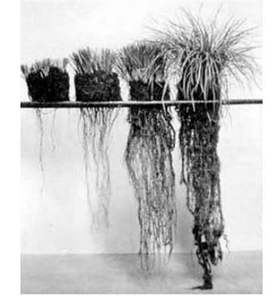 If you are in Southern California, we strongly encourage you to call usto direct you to places in Irvine where you can see the impact of SymSoil on plants. 
This is an example of grass responding to improvements in soil health using compost tea made with SymSoil® RC.   This Robust Compost achieved the Soil Food Web criteria for soil microbe biome components along three measures: 
Amount of Life
Seven Types of Life
Wild-Sourced Biodiversity within Each Life Form
SymSoil manufactures and sells Robust Compost, offers on-farm composting in Solano, Napa, Sonoma and Yolo counties of California and offers biological soil assessments through our lab in Fairfield, California.  
One cubic yard of SymSoil® RC, in a GEOTea 250 brewer, can make over 6,000 gallons of Compost Extract, in about 90 minutes.  One cubic foot is available through our website or Amazon and can be used as a soil topper, a blend for regular compost or in a brewer to make 250 gallons of compost tea.