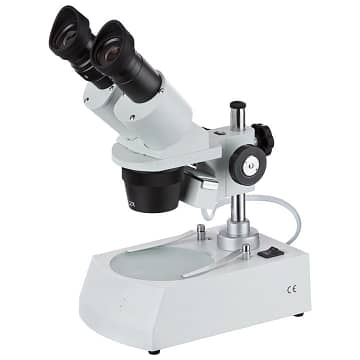 To evaluate soil biology, you need the right tool – namely a microscope through which you can see bacteria (the smallest biology), as well as fungi (at the level of segmented hyphae), beneficial nematodes, amoebae, flagellates, and even the larger micro-arthropods.
In the first four minutes of the video, Dr. Elaine Ingham explains what to look for in a microscope.
A binocular, compound microscope with a bright LED light and a mechanical stage. Specifically, she recommends:
Eyepieces with 10x wide field
3 "Objectives" – one 4x (for scanning at 40x), one 10x or 20x, and one 40x (for a total magnification of 400x)
1.25 Abbe condensor w an Iris diaphram (to shadow organisms)
Bright lamp
A mechanical stage, with course and fine for movement in multiple directions.
The lowest cost microscope that meets these specifications SymSoil has found is the OMAX microscope from AmScope
About SymSoil® Inc.
SymSoil is a leader in development of biological soil amendments for agriculture that restores the microbes that provide the right food to the plant roots, improving plant health, and making food more nutrient dense and flavorful, the way nature intended. SymSoil has products and services for growers using regenerative agriculture methodologies which improve profitability. Services include biological assessment of soil at the SymSoil Labs in Fairfield California. Visit SymSoil.com or call 833-SYMSOIL for details.
Educational products include webinars and courses for home schooling with Matt Powers.
Its flagship product, SymSoil® RC (Robust Compost) is a complex community of soil microbes, which includes in excess of 1,000 species, covering broad biodiversity of bacteria, fungi, amoebae, and other protozoa, beneficial nematodes and micro-arthropods. SymSoil was named one of 2019's AgTech Companies to Watch. Accredited Investors can learn more about SymSoil as an impact investment here.