Robust Compost is a complex community of soil microbes in a solid transport medium.
Robust Compost is a soil amendment that is very different from conventional or commodity compost. Robust Compost contains the complete soil microbe biome, or soil ecosystem including bacteria, fungi, archaea, nematodes, amoeba, flagellates and micro-arthropods. Often it has other types of life, including animals (earthworms, water bears) and it may contain diatoms and other algae, phages and other types of protozoa. Where healthy soil contains in excess of 10,000 species of life, Robust Compost has in excess of 1,000 species and includes at least 7 types of life.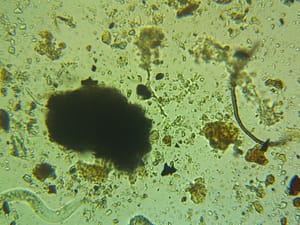 These 7 types of life feed, directly and indirectly on sugars, carbohydrates and other materials extruded by plants and each other. The complete soil biome was first described in academic papers by Dr. Elaine Ingham and called the Soil Food Web. The soil biome is as complex and fascinating as the gut biome. Underlying the descriptions of these life forms are the well documented, and an acre of healthy, living soil is estimated to have in excess of 10,000 lbs (the weight of two full grown elephants) beneath the surface. A handful of healthy soil has more living organisms than people alive today.

For 40 years, Dr. Ingham has been teaching a method of creating a particularly robust type of thermo-compost, which contains no active pathogens and has significant biodiversity. It contains very specific amounts of fungi and other life forms. SymSoil RC is based on hitting these biological endpoints and allowing each customer to know exactly how much biology they are purchasing. At SymSoil we encourage people to view these lifeforms as animals (COWS), although strictly speaking they are much broader types of life than just animals. But in this analogy, the organic matter that you can see with your eyes known as compost is food for the "animals" (HAY).

This type of compost, sometimes referred to as "Living Soil", "Soil Food Web Compost", "BioComplete Compost." We prefer the term Robust Compost, as these wild sourced life forms are derived from the composting process. We encouraging all organic gardeners, farmers and arborist, and all those involved with sustainable or regenerative farming to share with everyone who will listen – Robust Compost holds the key to restoring fertility to land and promoting healthier foods.
Robust Compost is a complex community of soil microbes in a solid transport medium.
You may find these articles to be interesting:
Biochar, A Soil Biology Perspective
Soil Ecosystem and How it Works
Soil Food Web – SymSoil's Perspective
Support SymSoil by purchasing  our products  https://symsoil.myshopify.com/
About SymSoil
SymSoil Inc., a Benefit Corporation (B), is a leader in development of biological soil amendments for agriculture that restores the microbes that provide the right food to the plant roots, improving plant health, and making food more tasty and nutrient dense, the way nature intended. These indigenous crop and regional soil specific microbes regenerate the soil significantly increasing crop yields and nutrient density in food. For more information please reachout to us at Info@SymSoil.com or call 833-SYMSOIL (833-796-7645)