SymSoil is pleased to announce that we have textbooks, workbooks and microscopes (coming soon), for home schooling, in the area of soil science. If you are putting in a Victory Garden or a Resilience Garden and have children at home, this is a teachable moment – for learning about the natural world.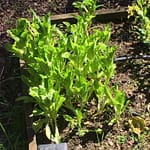 Matt Powers, one of world's leading permaculture teachers, has produced workbooks for children and high school students that make creating a resilience garden an educational opportunity. Permaculture Student, Workbook 1 has been used by teachers in elementary schools and home schools. The 48 page workbook is ideal for home schooling. It is designed to be used with 90 page Permaculture Student, Textbook Level 1 as a reference manual. Filled with colorful, scientifically accurate illustrations, Permaculture Student, Level 1, which contains both the workbook and the textbook, is a broad introduction to the ideas that drive permaculture design and regenerative agriculture.
Permaculture Student 2, Workbook is for high school students and those new to gardening who want success and a broad understanding of the science and principals. It has both practical information for your home garden and covers all certification requirements of a standard Permaculture Design Certification course, for a fraction of the cost of design certification courses. SymSoil also has The Permaculture Student Teacher's Guide and The Permaculture Student 2, Textbook available, as well as microscopes (coming soon!)
The Permaculture Student 2, Textbook includes an introduction to composting, effective microorganisms (EM), Korean Natural Farming IMOs, bokashi and vermicompost. It is meant for new gardeners and students of gardening. Along with the Textbook, it aligns and transcends state and national science standards as a full-year science elective in both a high school and college setting. Through this 419 page textbook and/or the accompanying workbook, learn to grow food, restore and rewild large landscapes, and change the world by reversing the devastating effects of climate change.
The book contains over 250 beautiful, full-color photographs and illustrations, to make is easy to understand the science. The material was reviewed and edited by Dr. Elaine Ingham (Soil Food Web Institute), Darren Doherty (Regrarians.org), Peter McCoy (Radical Mycology), Joel Salatin (Polyface Farms), John D. Liu (Ecosystem Restoration Camps), Dr. Willie Smits (Rainforest Innovator) , Geoff Lawton (Permaculture Online), Larry Korn (One Straw Revolution) and others.
A serious student is going to also want a microscope, to better understand soil biology. This video, by Dr. Elaine Ingham, on how to select a microscope for soil biology is about 4 minutes. SymSoil has done some research, a link to the lowest cost microscopes that meets these specifications in included in our blog, Low-Cost Microscope for Soil Biology.
The Permaculture Student Teacher's Guide includes lesson plans that pair with textbook and Matt Powers' Advanced Permaculture Student Online, the advanced permaculture certification program available through https://www.thepermaculturestudent.com/
Learn more about Pandemic Resiliency Gardens, Community Resiliency and Food Self Sufficiency here. Join the Facebook Group, Pandemic Resilience Garden here
SymSoil and Permaculture
Permaculture classes are where many regenerative techniques are taught, and SymSoil is a provider of goods and services for gardeners and farmers using regenerative agriculture methods. Two of the 4 co-founders of SymSoil, a California B-Corp, have advanced certification in Permaculture Design. They focus on wholistic thinking, and utilizing the patterns and resilient features observed in natural ecosystems.
Permaculture has proven its ability to dramatically increase the nutritional value of crops, without sacrificing yields, while reducing inputs and associated costs of highly intrusive techniques, healing the damage done by conventional approaches to farming.
About SymSoil® Inc.
SymSoil is a leader in development of biological soil amendments for agriculture that restores the microbes that provide the right food to the plant roots, improving plant health, and making food more nutrient dense and flavorful, the way nature intended. SymSoil's flagship product, SymSoil® RC (Robust Compost) is a complex community of soil microbes, which includes in excess of 1,000 species, covering broad biodiversity of bacteria, fungi, amoebae, and other protozoa, beneficial nematodes and microarthropods. SymSoil was named one of 2019's AgTech Companies to Watch. Accredited Investors can learn more about SymSoil as an impact investment here.