Today the CARES Act was passed in Washington. The Office of the Secretary of the Department of Agriculture received $9.5 billion, approximately 19% of the total food and agriculture provisions, to provide financial support to farmers and ranchers impacted by coronavirus. The funding is allocated specifically for specialty crops, producers who supply local food systems and farmers' markets. These agriculture-related provisions also included suppliers of restaurants, school meals, and ranchers and dairy farmers. Separately, the bill included $14 billion to replenish the U.S. Department of Agriculture Commodity Credit Corporation to support agricultural producers affected by the COVID-19 pandemic.
"While we don't know the full impact of this outbreak across the agricultural community, we do know this: Our producers are doing their part to keep the grocery shelves stocked and food on our tables," said John Thune, the US Senator from South Dakota. "I'm glad those who were at the negotiating table with us agreed to provide these critical resources that are necessary to support our agriculture community and bring swift relief."
Every part of our country is being impacted by the current COVID-19 crisis. The CARES act will provide relief to farmers and ranchers, who were already suffering from the loss of overseas markets, among other things. SymSoil, with regenerative agriculture products to improve soil health will seek ways to support our ag community, as they continue to provide consumers with plant medicines and put food on the table, during these challenging times.
While most of people are sheltering at home, Mother Nature continues to move forward and many growers are out in their fields making sure people get fed. The volatile markets and economic times leave many things uncertain, but people still need to eat. SymSoil is pleased that Congress was able to provide emergency relief for farmers during the COVID-19 outbreak through the CARES Act.
What is Regenerative Agriculture?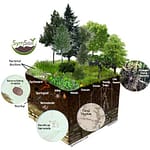 On the continuum from organic farming to sustainable farming, regenerative farming is the logical next step. With each crop farmed in a regenerative way, the soil health and fertility improves. Thus, regenerative agriculture is the return to the harmonious and mindful application of natural systems to farming. This approach has proven its ability to dramatically increase the nutritional value of crops, without sacrificing yields, while reducing inputs and associated costs of highly intrusive techniques, healing the damage done by conventional approaches to farming.
SymSoil has products to help farmers improve profitability where ever they are on the continuum. These include products to reseed the complete soil microbe biome, foods for soil microbes, consulting and laboratory testing to assess the biology and shift, with biology, plant nutrient cycling, and soil conditioners.
About SymSoil® Inc.
SymSoil is a leader in development of biological soil amendments for agriculture that restores the microbes that provide the right food to the plant roots, improving plant health, and making food more nutrient dense and flavorful, the way nature intended. SymSoil has products and services for growers using regenerative agriculture methodologies which improve profitability. Its flagship product, SymSoil® RC (Robust Compost) is a complex community of soil microbes, which includes in excess of 1,000 species, covering broad biodiversity of bacteria, fungi, amoebae, and other protozoa, beneficial nematodes and microarthropods. SymSoil was named one of 2019's AgTech Companies to Watch. Accredited Investors can learn more about SymSoil as an impact investment here.